November is upon us, and this coming week will find millions of Americans gathering together with given and chosen family to celebrate the foundational myths of American settler colonialism and the ongoing erasure of indigenous peoples on this land.

This year, in the midst of one of the most powerful, visible, and spiritual resistance movements for indigenous sovereignty at Standing Rock, those of us who participate in some form of ritual at this time of year can take concrete steps to support indigenous sovereignty: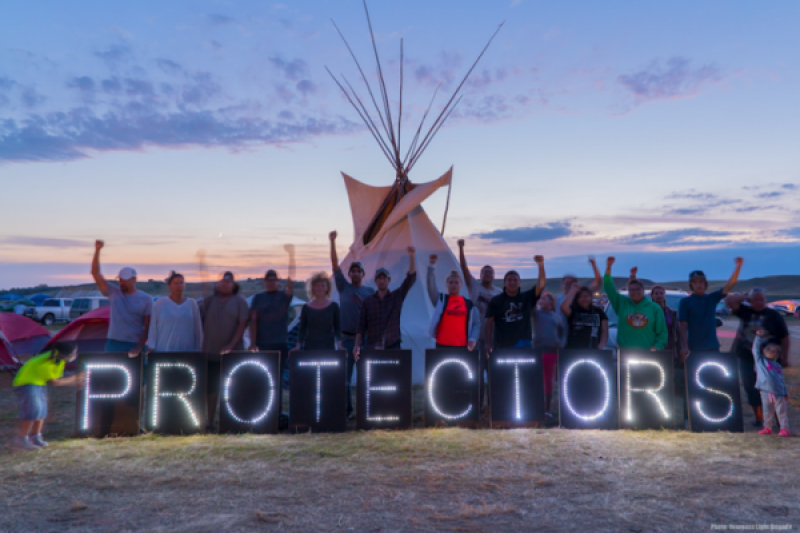 We can also shift the narrative in our communities and families at this time of year by exposing the myths undergirding the holiday called "Thanksgiving" and stopping the invisibilization and erasure of indigenous peoples.
We can begin to get curious and ask ourselves the very hard and painful questions that we'd rather avoid:
In what ways might we be perpetuating injustice when we continue to celebrate and give thanks on this day, rather than finding a new day?
Why are these mythologies so ingrained into our culture? Why do our friends and family become so defensive when we start to question why we celebrate this holiday?
Do we really want to continue to celebrate a holiday that commemorates the largest genocide in human history?  In what ways is it similar or different than if Germany celebrated the Holocaust with an annual, national feast? What are we really teaching our kids when we encourage them to dress up as Pilgrims and Indians?
And we can begin the brave and difficult work of creating new practices of gratitude, reciprocity, and solidarity that don't center around the celebration of the genocide of Indigenous peoples and the ongoing colonization.
As Robin Wall Kimmerer, Potawatomi Nation scholar and botanist, says in Braiding Sweetgrass,
"To have agency in the world, ceremonies should be reciprocal co-creations, organic in nature, in which the community creates ceremony and the ceremony creates communities.  They should not be cultural appropriations from Native peoples.  But generating new ceremony in today's world is hard to do."
If you'd like to learn more, here are a few resources to support conversation. Know of other great resources? Share them below in our comments section.
Videos:
Don't Celebrate Genocide aka Thanksgiving – various clips of protests
"What the White Man celebrates as a day of Thanksgiving, we have absolutely nothing as a culture to celebrate. That's why we consider it a Day of Mourning." "There's gonna be a parade that marches down by the rock. These people are gonna be dressed as Pilgrims. In one hand they're going to have the Holy Bible and in the other hand they're going to muskets. Now what does that tell you?"
Since 1970, Native Americans have gathered at noon on Cole's Hill in Plymouth to commemorate a National Day of Mourning on the US thanksgiving holiday. Many Native Americans do not celebrate the arrival of the Pilgrims and other European settlers. Thanksgiving day is a reminder of the genocide of millions of Native people, the theft of Native lands, and the relentless assault on Native culture. Participants in National Day of Mourning honor Native ancestors and the struggles of Native peoples to survive today. It is a day of remembrance and spiritual connection as well as a protest of the racism and oppression that Native Americans continue to experience.
The Truth About Thanksgiving by Susan Bates
The true story of thanksgiving and not the Disney fairy tale told to you when you were growing up… "The killings became more and more frenzied with days of Thanksgiving feasts being held after each successful massacre. George Washington finally suggested that only one day of Thanksgiving per year be set aside instead of celebrating each and every massacre."
Critical Perspectives about Thanksgiving:
No Thanks to Thanksgiving from The Final Call
Thanksgiving: Celebrating the Genocide of Native Americans from News Junkie
Columbus What? Oh You Mean, Happy Imperialist Resistance Day! by The Angriest Black Man in America
"It is shameful that European culture was so narcissistic and self absorbed that they didn't imagine a world outside their own and when they 'discovered' it, they couldn't handle or respect that fact that someone had already 'discovered' it."
Applying the Conversations to Parenting and Education:
Why I'm Not Thankful for Thanksgiving by Michael Dorris
Rethinking Thanksgiving: Myths and Misgivings by Vera Stenhouse
Rethinking Columbus Curriculum by Rethinking Schools
"Why rethink Christopher Columbus? Because the Columbus myth is a foundation of children's beliefs about society. Columbus is often a child's first lesson about encounters between different cultures and races. The murky legend of a brave adventurer tells children whose version of history to accept, and whose to ignore. It says nothing about the brutality of the European invasion of North America."
The First Thanksgiving History Assessment by Stanford History Education Group
The People vs. Columbus, et al.by the Zinn Education Project
Beyond the So-Called First Thanksgiving: 5 Children's Books That Set the Record Straight on the Indian Country Today Media Network
A Little Satire
Totally Biased: Hari Kondabolu's Columbus Day Wish
Illegal Immigrants by 18 Mighty Mountain Warriors
Settler Colonialism
How to Support Standing Rock and Confront What it Means to Live on Stolen Land
While these are helpful tips for individuals entering the sphere of solidarity work, there are also things activists already engaged in other organizing efforts can do to amplify indigenous-led struggles or incorporate a decolonial analysis into their work. It begins with incorporating an analysis of settler colonialism into all of your organizing work.
I argue that critical reflection on settler desires for Indigenous land and culture will be crucial to any effort by settlers to ally with Indigenous decolonization struggles. I invite settlers to ask: How do their desires for Indigenous land and culture express colonization and contradict efforts to support Indigenous decolonization? How can settlers question their desires for Indigenous land and culture as a basis of committing to decolonization?
Door Knocking for Reparations as a Rich Kid
As RGers, it was extremely inspiring to stand in solidarity with POOR magazine and be together to witness a group of people committing themselves to work together around community reparations. As the Bay Area Resource Generation Chapter moves into launching a campaign locally and RG continues to finalize its national campaign, it was both exciting and nerve-wracking to get a glimpse of what RG in action could look like.  It was empowering to realize that we, collectively, have a voice and are valuable assets to movements for justice– not just as donors, but as comrades in struggle.